Welcome!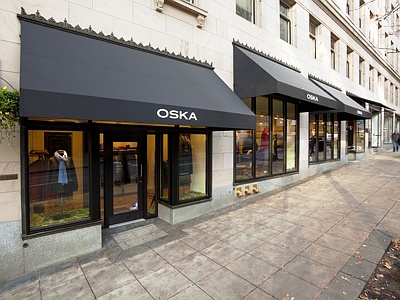 OSKA Seattle 1322 Fifth Avenue, Seattle, Washington 98101 between Union and University

Hours ; Monday - Saturday 10:00am-6:00pm or by appointment
Telephone: 206.209.5401 Fax; 206.209.5398 seattle@oska.com

For distinctive women only!
A lot of women love OSKA. Why? And who is the OSKA woman? A woman who seeks the unexpected and desires to make a statement. She knows what she wants and loves life. A woman who quickly gets tired of trends, who is secure in her sense of fashion and style, and is curious and courageous. She is definitely never seeking the ordinary. This is a woman who is distinguished by her delight in playing with shapes and materials, and also by her fashion flair. She does not adhere to a conventional standard; she is humorous, smart and self-confident.
Seattle is the largest metro area in the Pacific Northwest and has been a neighborhood-centric city for most of it's history, OSKA is delighted to make it's new home here in the heart of the city.
The OSKA Seattle shop located on Upper Fifth Avenue between Union and University will add a dynamic and inventive shopping experience to the changing urban center. We welcome you to the city of Seattle and to our OSKA shop.